Release Notes
January 2018
Usability:
You can now drag and drop files when uploading documents instead of clicking on the Choose File button.
Administrators can now interleave encounter forms and consent forms in the Forms Workflow in an order required by the organization or agency.
Reports:
The Provider filter in the Provider Service Report is now restricted to show the activity of the logged in user (Provider) only.
The Census Report now includes two new columns, Client Phone Number and Primary Care Provider.
The Level of Care Report includes new columns to display temporary assigned room details.
Consent form builder improvements:
Consent Form Builder now supports the following new keywords:
PCP Address, PCP City, State, Zip Code

Address of the Primary Care Provider entered in the Contact Tab of the Demographics in the Patient chart

Facility City, Facility State

Populates the Primary Business Entity's Facility City and State

Client's First Name, Client's Last Name

Now you can split the client name into first and last name, so you can create letters and consent forms with the following format. E.g. Dear Client First Name, or Dear Mr. Client Last Name.
Patient exclusion list:
Added support to select more than one provider in the Patient exclusion list, when restricting access to a patient chart.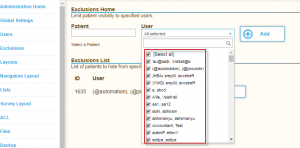 Billing
Supervising Provider in Claims

When generating a claim and populating the Supervising Provider field, DrCloudEHR™ will now lookup the options set in Globals > Billing > Supervising Provider. Billing staff will need to ensure this option is set according to their agency needs.
Clinical
Added support to pick a Diagnoses code to the Defined Problem in the MANAGE GOALS section (Practice->Administrative->Manage Goals).
2017
Data Interface updates

Methasoft Interface

Added support to import dosage data from Methasoft and create billable encounters for existing clients
View detailed logs

834 Admit Data Interface

Interface to export data to payers that require an 834-Admit file.
Currently supports Health Choice Integrated Care (HCIC) and Mercy Maricopa Integrated Care (MMIC) – Arizona

Supplemental Demographics Interface

Interface to submit extended demographic data fields as required by HCIC and MMIC
User Interface to input changes and queue files for later submission in batches

Form Builder 2.0

Added support for over 23 data types

Range-Slider, Likert scale, Scored Surveys, etc

Improved print layout

Improvements to Provider Orders – updated workflow and status tracking

Support for Topaz Signature pads

Multi-Disciplinary Treatment Plan

Create treatment plans for one or more diagnoses
Integrated Service Codes and services avoid scheduling errors

Primary Care Provider Note:

Major feature adds support for integrated care delivery and billing support

Provides suggested code to use based on level of care and supported documentation

Add a signature block to the Transition Plan document that includes "Parent/Guardian's Signature".

Ability to Bulk Print of Form Letter

We have added additional filters and also made it work for Consent Forms.

Changes requested in 2 existing encounter forms (MD Intake And Assessment Evaluation form, MD Intake and Assessment form) for additional fields ePDMP reviewed and notes.

Updates to client ROI Form

At reminder "View Log" popup window can we add a button to close the popup window or go back

Claim Rules: Resetting field 33 a and 32 a on the HCFA claim form to get the NPI of the rendering provider instead of the facility, populates the function name in the fields

Various Bug Fixes and minor updates

48 hour rule – Create an ACL that a Clinic Supervisor can give an Clinician to create an encounter that is 48 hour overdue.

New consent form 'Authorization For Release Of Information'

At Counselor Dashboard default the list to only admitted patients.

Form builder designed forms need to delete without saving a place holder

When Clicked on the Deactivate/ Reactivate button system should be able to refresh the forms list, just like we do when we publish the form

Graph not being displayed in  the Patient Demography report under Patient Population by Ethnicity?

Navigation to clinical notes and encounters just got more difficult.

Prevent consent form templates from being edited after they have been signed

Patient Report (New)

Outcome Measures report

Counselor Dashboard

Selecting facility encounter should automatically select primary diagnosis for that facility

Under "New Encounter" we only need 4 options to show for "Place of service"

Request for Save e signature function also save entire encounter form.

Collections–Export to CSV everything that is displayed On-Screen

Calendar client popup information displays incorrect phone number for patients

Selecting Group category drop down list missing in Group Session Category Report

No Service Code populating on Fee Sheet

Updates to the Annual Wellness Visit (AWV) changes

Reports->Visits->Appointments:  The Insurance Column does not get all data for future Appointments

New change to Reports->Visits->Appointments

Preview of faxes that have gone out does not work with Word documents

Cannot proceed past matching tables on Custom Reports

Added Admit Diagnosis in admit/discharge page

Revenue Cycle Reports