Release Notes – Feb 2016
New Encounter Form
Provides a glimpse of the direction the new Dr Cloud EMR user experience. Clinicians can pick from a list of their most recently used billing codes for simpler and faster coding of encounters.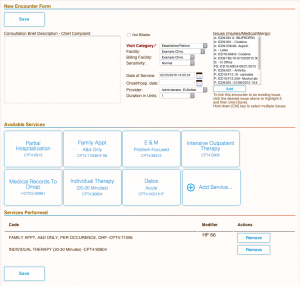 Consent Forms
Now you can apply Golden Thread Rules and Forms Completion Criteria on your Custom Consent Forms as well as hundreds of our ready to use Forms.
Allocating Exam Rooms
Allocate Exam rooms right from the schedule with our new Allocate Room button. You can pick the room when you create the appointment, or while checking clients in.
Co-Pays and Payments
Our new Patient-Wise Payments screen enables you to enter payments that you have collected directly from the patient. You can use this page to enter co-pays and invoice balances.
Please contact Dr Cloud EMR Client Services  if you would like this feature.
Co-Pay and the Schedule
Co-Pay information entered into the patient's demographics will now be displayed when you hover your mouse over the appointment in the schedule.
Primary Diagnosis Code
The Primary Diagnosis Code will now show up as the first item listed in the Medical Issues section.
Past Encounter List – new Provider Filter
The Past Encounter List now has a provision to filter by Provider.  By default, it shows you encounters of all the Providers.
Inbox->Counselor Dashboard
The Counselor Dashboard, by default, will display, all the patients admitted under the logged. Easily access the patient chart simply by clicking on the Patient's last name.
Forms Completion Criteria
Forms Completion Criteria now supports separate completion criteria for each form based on different services.
Search Payments
You can now print the results found in the Search Payments section.