NAADAC Preferred Vendor
---
Dr Cloud EHR has been chosen as a preferred EHR vendor by the NAADAC.
---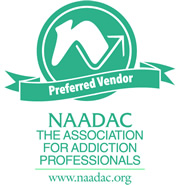 NAADAC, the National Association for Addiction and Drug Abuse Counselors, represents the professional interests of more than 75,000 addiction counselors, educators and other addiction-focused health care professionals in the United States, Canada, and abroad. NAADAC's members are addiction counselors and  addiction-focused health care professionals who specialize in addiction prevention, treatment, recovery, support, and education. An important part of the healthcare continuum, NAADAC members and its 45 state affiliates work to create healthier individuals, families, and communities through prevention, intervention, quality treatment and recovery support.
NAADAC provides many resources for addiction focused health care professionals allowing them to continue their education face-to-face or from the comfort of their home. Free webinars are available online, as well as independent study courses, examinations, and annual conferences.
NAADAC Webinars – Over 70 Continuing Education credits are available through these webinars to enhance the knowledge and skills of alcohol and addiction specialists. Completely FREE for members.
NAADAC Courses – Independent Study Courses include study guides and exams, and allow professionals to earn CE credits from home.
NAADAC Conferences – The 2014 Annual Conference and 40th Anniversary Celebration will be held in Seattle, WA on Sept. 26 – Oct. 1, 2014. Conferences provide a fun and enjoyable environment to network and also update attending professionals on the latest trends and issues related to the industry. Those in attendance can earn over 40 Continuing Education hours.

About DrCloudEHR's Preferred Vendor status
NAADAC chose DrCloudEHR as their preferred Electronic Medical Records vendor. DrCloudEHR's comprehensive suite of solutions is tailored to help health care professionals, in the addiction, prevention, and treatment areas to focus on what they do best: Provide quality care for their patients!
---
For more information about the DrCloudEHR software solutions for drug addiction and substance abuse professionals,
please visit General Practice and Behavioral Health.