Dr Cloud EHR Golden Thread enables Behavioral Health Providers nationwide meet audit and compliance needs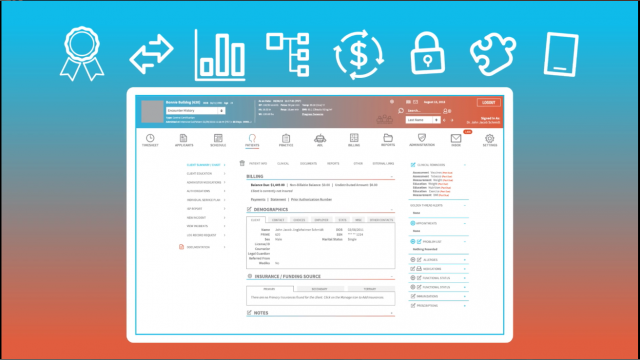 WA State auditors say "Dr Cloud EHR is the most easily navigable and audit ready EHR they had experienced at a provider agency thus far!" – Megan Gifford
Every person seeking behavioral health services comes with a unique story, remarkable achievements, powerful relationships, connections to things seen and unseen, their journey for survival and growth nearly always heroic and sometimes tragic, especially in the light of a mental health or substance use disorder.  As providers we work to consciously and intentionally create heart-felt environments for safety, welcome, engagement, collaboration, mutual respect and trust.  We create sanctuaries—places of hope and peace conducive to growth and positive therapeutic outcomes where vulnerability and honesty are honored and healing is done with the individual to help nurture and enhance families and communities. Often, healing and recovery comes in its own time, with characteristics, twists and turns unique to each person.  It was my good fortune to learn these realities more deeply in my work as part of the Healing Circle Wellness Program at the Institute of American Indian Arts (IAIA) in Santa Fe, New Mexico. IAIA is a unique tribal college in that it is chartered by the United States Congress to empower creativity and leadership in Native arts and cultures–and in my behavioral health work with tribes and pueblos around the country and with the Hispanic culture in my home state of New Mexico.
One of the most significant challenges all behavioral health providers face now is how to capture these organic, uniquely personal, courageous, emotional and often deeply spiritual journeys to recovery and wellness in health records that meet the audit requirements of regulatory agencies, third party payers, and other funders.  It is probably the number one thing that keeps provider leadership up at night, "How are we going to perform on our audits…will we be sanctioned or penalized…will there be recoupment… will we lose all or part of our funding…will our agency or community be looked at in a lesser light if we don't do well on audits…will there be legal problems because our records are deficient, especially with stringent Medicaid and Medicare and other federal and state regulations".  All very important questions.
The Golden Thread system works
Recently, I joined the team at Dr Cloud EHR as the Chair of their national advisory board.  For many years I experienced audits on both sides—as an auditor in my role as a managed care executive and also as a leader in behavioral health provider agencies on the receiving end of audits.  There was always more anxiety on the receiving end!   I've always looked for an Electronic Health Record that was flexible and responsive enough to both tell the important story of each person's course of treatment—mirroring and supporting the provider workflow and client path in as non-intrusive a manner as possible, yet also robust enough to capture the elements and produce the reports demanded by regulators, third party payers and funders and to help ensure that our agency was reimbursed.  For better or worse, the only way that payers and regulators can understand each client's story, the services they receive and the outcomes they achieve is through chart audits.  The old maxim proves true, "If it is not documented, it didn't happen."  As providers we strived for the peace of mind to get the point of being ready for any audit at any time because our files were in order and "audit ready".   As an auditor, we were especially pleased when random charts could be easily identified and accessed, contained the required clinical, administrative and fiscal (billing, claims etc.) information, the EHR moved quickly between functions and was easily learned and easily navigable.  This preparedness and ease of use spoke to the professionalism and preparedness of the provider.  Whether fiscal audits, clinical audits or administrative audits there has to be a "golden thread" that links each fiscal, clinical and administrative record in a way consistent with the policies and procedures of the agency, is compliant with regulations and payer contracts yet still reflects the person centered heart of the client story.  (In next month's blog I'll talk about how each client record has to have all the elements of a good story—who are the cast of characters, what is the setting, what are the conflicts or problems, the creation of a great story arc in a multi-disciplinary, recovery oriented treatment plan, and how to get to a satisfying and expansive ending by measuring the anticipated and desired outcomes, including getting paid.)
I completed my due diligence review of the Dr Cloud EHR with an eye toward how the steps of a typical audit would be facilitated using the solution and was very pleased to find the EHR to be a powerful tool toward successfully navigating an audit and robust enough to manage the requirements of multiple funding sources using their "Golden Thread" approach.  I was anxious to hear from current provider customers who had recent audits using Dr Cloud EHR! Manu Reddy, Director of Quality and Compliance at Dr Cloud EHR and I had the opportunity and pleasure to speak with Megan Gifford, Chemical Dependency Supervisor and Dan Cable, Chemical Dependency Manager of Muckleshoot Tribe Behavioral Health Program in Auburn, Washington who had just completed an audit by the Washington State Department of Social and Health Services using Dr Cloud EHR.  Megan and Dan shared the ease with which the auditors learned and navigated the EHR, quickly accessing randomly requested records, easily seeing that the required clinical elements were contained in each chart, all helping to make it one of the best audit scores the team had ever achieved.   The hard and compassionate work of the treatment team and the information at the fingertips of the auditors in Dr Cloud EHR also made the audit a pleasant experience for both themselves and the auditors—a collaborative and professional exchange—without the anxiety of having to scramble for information to get to the auditors at the last minute or while they waited.
We were especially gratified when both Dan and Megan attributed much of the success to their excellent partnership with the customer service team at Dr Cloud EHR.  Successful audits happen because the provider gathers the manuals and checklists that their own regulatory agencies and third party payers require.  This information has to be cross-walked, collated and configured into the EHR to ensure that all that is required is captured.  This requires a strong, flexible and nimble partnership between the provider and the EHR team, but the partnership pays dividends for years to come in successful audits and in many other ways.  It was very gratifying that the team at Muckleshoot indicated that this was one of the key activities in their success!
Steve Jobs once said that those who stand at the intersection of human services and technology will create the economies of the 21st century.  As a long time clinician, provider and administrator it is especially pleasing to see, in action, with excellent agencies like Muckleshoot, technology supporting the mission of the agency and the recovery and wellness of the client, family and community rather than the other way around.  This has to be the purpose of all of the technology we employ on behalf of the heroic and courageous journeys of the people we serve and is the mission and purpose of Dr Cloud EHR.  With a great provider team and the right technology, we can, indeed, create strength based environments of sanctuary, recovery and wellness and focus on services while also being compliant with regulatory and payer requirements and have the peace of mind of being "audit ready" throughout the year!
Jim Clarkson, MA, LADAC
Chair, National Advisory Board
DrCloudEHR™ (www.drcloudehr.com)
CEO, Via Positiva, LLC
(505) 944 5284